Tube Sites Submitter will upload your videos to a great number of adult tube sites and if you can use it properly then this upload tool will become a very powerful tool which is also very effective.
In the Tube Sites Submitter database, we have set up adult tube sites according to their rules. This means that the team of our editors uploads videos in various sizes on a daily basis and observes which tube sites accept these videos, or where this upload has failed, or if an error message was displayed. We will record all this information in the database so that the future uploads of our users will be done to as many adult tube sites as possible.
It is usually true that very small videos e.g. 15 MB, or very large videos e.g. 1 GB are problematic for adult tube sites. So it's certainly not the case that the bigger the video, the higher my chances that my video will be listed on the adult tube sites, on the contrary, it can lead to your videos not being accepted and you having to reduce and cut the videos into smaller parts. Adult tube sites have scripts set up on their websites, which check occupied space, if they wouldn't have these scripts, then it could very quickly lead to filling the hard drives completely and thus to other large costs that the given tube site would have.
So the size of the video DETERMINES how many sites will be generated for you and your video will be uploaded to how many adult tube sites. The ideal size is the gold middle way, 100-500 MB the size of a single video. It is best to convert these videos to MP4 format.

When you upload once in a while, take a look at the data in the Tube Sites Submitter, where you will automatically see the size of the video when you import it into the upload queue. You will find these data in step 3.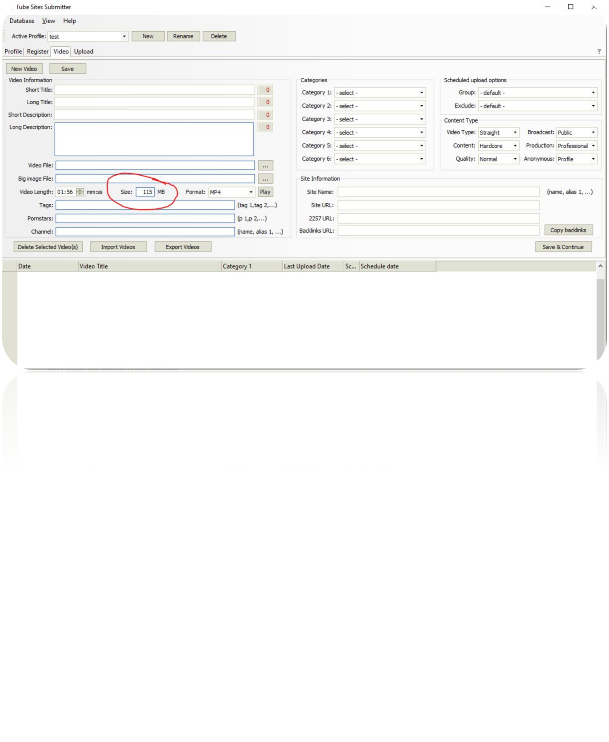 Read also our other articles: