We bring you a new upgrade of Tube Sites Submitter. First of all, we have improved the new Backlinks function, we have added the name of the tube site in the window title, we have improved the functionality of the upload, and we have added new categories too.
Backlinks
We have implemented a function that opens the door to better cooperation directly with the tube site owners. We wrote about this feature in the article. Tube site owner in exchange for a backlink will give better benefits and advantages for the uploader, e.g. enable url in video title, enable url in video description, publish videos quicker, allow shorter videos (from 1 min.), publish videos of uploaders at higher positions, send more traffic to videos and so on …. Backlinks aren't required, but when you put a backlink to a tube site you can get advantageous benefits.


The name of the tube site in the title
For a better overview, the name of the tube is displayed in the header of the window during manual upload. This will give you a better idea of which page you are on during the manual upload.

Greater support for upload forms
We constantly check the upload processes and if we find out that any upload form or script is not working properly, we will immediately solve this issue by upgrading it in the Tube Sites Submitter. With the new version comes better operation.
New upload categories
According to your suggestions, we have added more categories to the Tube Sites Submitter. You can now upload your videos to these new categories.
BBC
Cosplay
Czech
Italian
JOI
Oil
Pick up
Step Fantasy
Gay: Bukkake
Gay: Massage
Gay: Threesome
Shemale: Webcam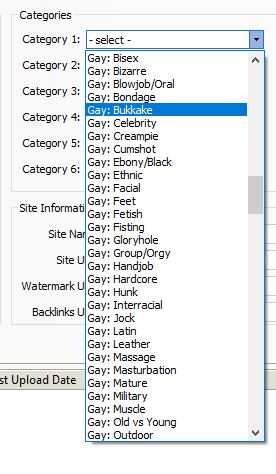 If you have a purchased license, download the latest version of Tube Sites Submitter and try out all the new features.
If you are not our user, you can immediately purchase Tube Sites Submitter and immediately start uploading your videos to more than 260 adult tube sites.