These days we released a new version of Tube Sites Submitter where we implemented new features and improvements. We provide you a brief overview of those features in this short article.

What's new?

Progress column in the video grid
Progress column added into the VIDEO and UPLOAD steps
Under the VIDEO tab you will get an overview of how many sites your videos have been uploaded to, and under the UPLOAD tab you can see the real-time progress of your videos, which are actually being uploaded to adult tube sites.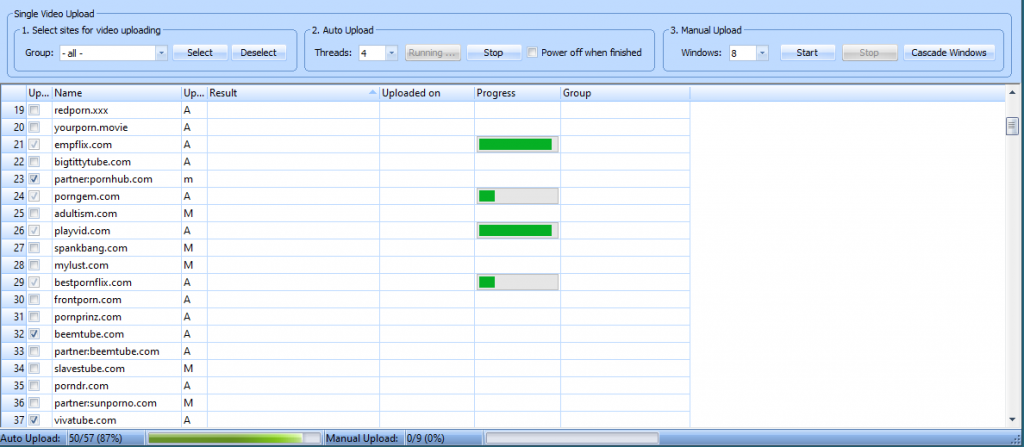 Big image file limited to JPEG
It happened many times that the video upload did not go through, because users used PNG and other formats. We left only one format in this upgrade, namely JPEG. This way the video upload statistics will definitely improve.

Pre-filling the directory profile when creating a new profile
A directory is automatically generated in which the results of your uploads are stored. These results can be viewed directly by the user.

Support for importing videos from CSV where the last line is not terminated by an enter
We have improved the import of videos to Tube Sites Submitter from CSV files. Even if the line is not ended with ENTER, the list of videos is imported without problems.

ReCaptcha support
In order for more tube sites to be auto-uploaded, we have added support for reCaptcha.

Support for deleting categories during DB update
If there is a category in the Tube Sites Submitter database that is old and no longer used by tube sites, we will be able to delete this category from the Tube Sites Submitter database. This will remove categories that are not added to any or very few tube sites.

How do you upgrade to the new version?
Open Tube Sites Submitter and the self-installation process will install the new version for you. You can also download the new version here.