Groups are a very useful feature. This new function allows you to group tube sites according to your own structure or interests. It is one of the most useful utilities for me personally, because I create various groups based on conversions and traffic.
First of all, my database is organized into traffic-based groups. Depending on what you are about to upload (niche, affiliate program) you select a group and then generate tube sites to which your video is uploaded.
My groups are as follows:
NICHE
TRAFFIC
CONVERSIONS

It is not quite true that the largest tube sites send you the most sales. After a time of uploading, when you create your own list of sites, you might be surprised to learn which sites actually send sales your way. Traffic from tube sites is very variable and it is good to monitor this parameter.
HOW TO CREATE GROUPS IN TUBE SITES SUBMITTER?
It is very quick and simple. Open the Tube Sites Submitter and click on Database > Show in the top menu.
The tube sites database is shown. Click on the NEW button on the top. This opens a window where you can name your new GROUP and then click OK. Done! Your GROUP has been created. From now on whenever you Upload in step #3 (UPLOAD) you can select the GROUP from which Tube Sites are generated for your next upload.
Tube sites from groups are still generated according to their rules and categories, so if a site fails to generate, it is not a software error. Most likely your settings did not meet the rules of the tube site (incorrect video info – length, category, description, etc.)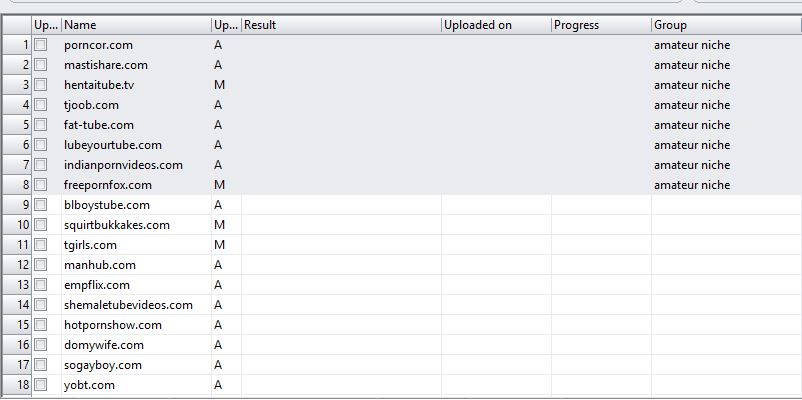 TIPS & TRICKS:
When beginning with uploads, I recommend you to upload to every tube site possible (not just the largest ones). After some time you will create your own list of tube sites which convert and send quality traffic.