Explanation of statuses in Tube Sites Submitter
Explanation of statuses in Tube Sites Submitter
Here we are going to explain the different statuses through the second step (Register) in TSS, so where you register your profile into tube sites. It is needed to set these statuses properly.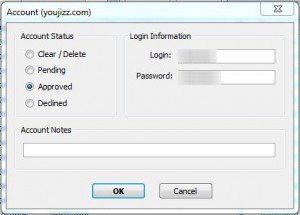 Status explanation:
Clear/Delete
If you tag a tube site with this status it will be available for a new profile registration. The Tube Site with this status will not be generated for upload (in step 4).
Pending
This status is automatically assigned as soon as a profile is created on the tube site. The status is pending because creating a profile does not mean you are approved. After auto registration (profile creation) to a tube site you receive a confirmation link in your e-mail inbox which you need to confirm (and for that you can use the Chameleon Confirmer). Even when you've confirmed the links your profile on the tube site may not always be 100% functional. It is advisable to manually check (by logging in using your password) whether your profile has been activated or not. Tube Sites with the Pending status are not generated for upload (are not pre-selected in step 4).
Approved
A Tube Site with the Approved status is pre-selected for upload in step 4 and you can upload videos to it. You always set this status yourself – the Tube Sites Submitter never sets the Approved status on its own.
Declined
If you assign this status to a Tube Site it will never be selected for automatic or manual profile creation and will never be pre-selected for upload (step 4 ). This status is mostly applied by those users whose profile was rejected or cancelled for any reason.